Commitments are items that are not reported as liabilities as of the balance sheet date. Some of these items are reported in the notes to the financial statements. Examples include non-cancelable (as at balance sheet date) binding contracts to rent space in the future or to purchase items at specified prices. Off-course the inception of the commitment is on or before balance sheet date.
A financial commitment is a commitment to an expense at a future date.
A capital commitment is the projected capital expenditure a company commits to spend on long-term assets over a period of time.
Financial statements should disclose the company or consolidated entity's commitments that are not already included as liabilities on the balance sheet, including but not limited to:
Long-term contractual obligations with suppliers for future purchases;
Capital expenditure commitments contracted for at the balance sheet date but not yet incurred;
Contractual obligations to others that will become liabilities in the future when the terms of those contracts or agreements are met;
Non-cancellable operating lease obligations (after implementation of IFRS 16 Leases these are on-balance liabilities);
Unused letters of credit; and/or
Obligations to reduce debt, maintain working capital, restrict future capital distributions, or other significant commitments arising from loan covenants.
Commitments are distinct from contingencies since there is no uncertainty related to the existence of the obligation.
Examples from BHP Annual report 2018:
Delivery commitments
We have delivery commitments of natural gas and LNG in conventional petroleum of approximately 1,873 billion cubic feet through FY2031 (56 per cent Australia and Asia, 44 per cent Trinidad). We have crude and condensate delivery commitments of around 10.5 million barrels through FY2019 (48 per cent United States, 38 per cent Australia and Asia and 14 per cent others) and LPG commitments of 271,974 metric tonnes through FY2019. We have sufficient proved reserves and production capacity to fulfil these delivery commitments.
We have obligations for contracted capacity on transportation pipelines and gathering systems, on which we are the shipper. In FY2019, volume commitments to gather and transport are 15 million barrels of oil and 24 million cubic feet of gas. The agreements with the gas gatherers and transporters have annual escalation clauses.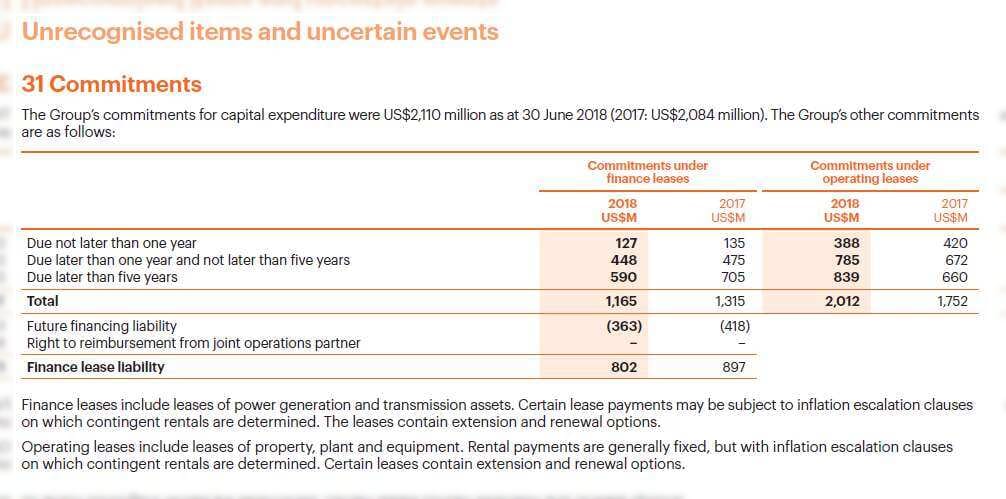 Note: applying IFRS 16 Leases would turn all these leases into on-balance liabilities.
---

Commitments
Commitments
Commitments Commitments Commitments Commitments